GUITARDOZ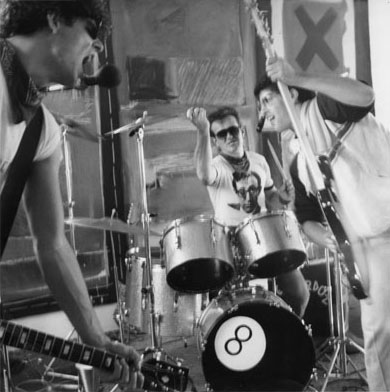 Guitardoz Personnel (1983-85)
Jerry Wagers - guitar, singing
Dave "Oscar" Meyer - drums, singing
Tim Fuson - bass, singing
I joined the Guitardoz in the spring of 1983. The band began in 1980 in Bowling Green, Ohio as The Resistors, moving on to Boulder, Colorado, where I believe they changed the name to Guitardoz. The mainstays of the band were Jerry Wagers on guitar and vocals and Dave "Oscar" Meyer on drums and vocals.
I met Jerry and Oscar through the 'musicians wanted' section of BAM Magazine - they were looking for a bass player, and I was looking for a band. I was so excited to join up with these guys - they had loads of great songs, fantastic energy and edge! As a dorky 18-year old college freshman, I was on Cloud 9 when they told me they'd like to have me join the group.
The Guitardoz were nominally a punk band, though there was always a strong melodic sense to Jerry and Oscar's songwriting, even in the early more punk days. For the first year after I joined the band, we plugged into the local punk scene. We rehearsed at the Practice Pad on Clay St. in Oakland, where we became friends with a great band called Rebels & Infidels. We gigged at Ruthie's Inn, Club Graffiti, the Sound of Music, and our fave Mabuhay Gardens.
We recorded a 4-song 7-inch EP in the spring of 1984 at Xandor in Moraga and released it on the Rebels & Infidels' Immortal Nuts label.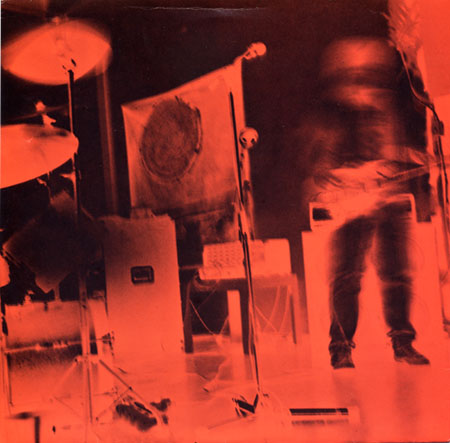 It was hard to develop a following playing at dingy clubs on weeknights to audiences of 12-20, This environment was a stark contrast to my first encounter with Jerry Wagers - as a freshman at UC Berkeley, I used to see him on sunny afternoons under Sather Gate, pounding out Beatles and Buzzcocks tunes on an acoustic guitar with a crowd of undergrads amassed around him. So I thought why not take the whole band out to Sproul Plaza, do some busking, and pass out flyers for our shows? I borrowed my dad's upright bass, Oscar dragged a stripped-down kit from his College Ave. apartment (using a floor tom turned sideways as a kick drum!), and Jerry brought out the old acoustic, and we began taking it to the streets!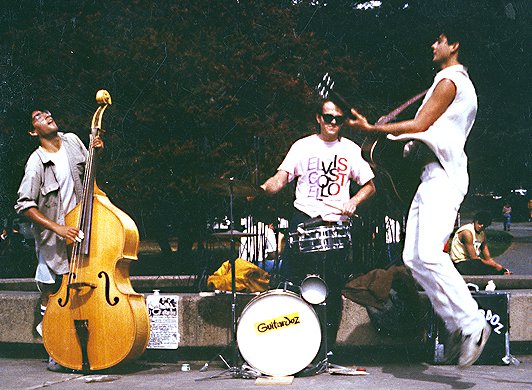 Indoors, things started to get more jangly, too. Sometime in late '84 or '85, Jerry got a Fender Twin Reverb, and under the influence of REM, The Three O'Clock and the like, we started moving in a more indie-pop direction. We also started producing our own shows in Berkeley at the Golden Boy (now the Kimchi Garden...), with the help of Chris Malfilatre, soundman extraordinaire. These were loads of fun, we could play for 3 hours if we felt like it, and we'd pull in a great crowd from our Berkeley street gigging. And we did some cool club gigs too - opening for the then little-known American Music Club at the Mabuhay, and for the Del Fuegos at Berkeley Square.
The Guitardoz dissolved in the warm days of summer 1985, with Jerry and me jumping ship to go all-acoustic and romantic as The Square Roots. Oscar went on to join the classic East Bay punk band Special Forces.
I will always be grateful for my time with the Guitardoz - Jerry and Oscar were so welcoming, excited to have me aboard, and they helped me develop into me! I really discovered my performing self during my time with them, and I began to find my songwriting feet as well, which they totally encouraged. It was a great band to grow up in!
Guitardoz Links
Guitardoz on MySpace and SoundCloud
Oscar's current band The Pollution
Tim Abdellah Fuson's website