The Square Roots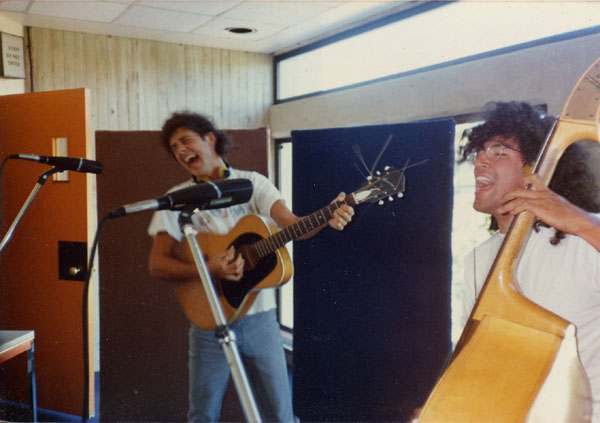 Square Roots Personnel
Jerry Wagers: Guitar, Harmonica, Singing
Tim Fuson: Bass, Clarinet, Guitar, Singing
The Square Roots grew out of the acoustic version of the Guitardoz in the gorgeous summer of 1985. UC Berkeley's Sproul Plaza was sort of our Ground Zero, the place where we honed our chops and where we could usually come back and feel at home. It was always renegade - we would decide to meet at Sproul Plaza with our instruments in the late morning, then spend the afternoon singing our songs to whoever felt like sitting around and listening. It was a sunny, spacious, immediate alternative to, say, playing for 12 people (including the bartender and the other bands) on a dark, drunken Tuesday night at the Mabuhay Gardens.
As I recall, for about the first year or so we showed up a bunch of times on the plazas of UC Berkeley, UC Davis and SF State. We also did a number of self-produced shows at Golden Boy Pizza in Berkeley and at Jerry and James' crib at the Oakland Cannery. We recorded our first album "For Sale" in December 1985 and released it in early 1986, selling it at our shows and at a few stores locally. Jerry was unbelievably prolific in songwriting at the time - he wrote something like 36 songs in 1985, and even I cranked out about 8 tunes that year. With our older material from the Guitardoz, our "master list" of original songs must have already held about 70 or 80 songs. We could play for 3 or 4 hours without a set list, just pulling song after song from the master list, throwing in a cover of the Beatles, Elvis Costello, the Buzzcocks or Petula Clark for good measure here or there. We felt unstoppable, on top of the world. It was an ecstatic, liberating, wonderful time to be alive.
Since neither Jerry nor I were very good at promoting the band, however, we weren't able to make too many waves outside of the plazas of UC Berkeley, UC Davis, and SF State. We also started to disagree about whether to forge ahead as an acoustic duo or to add a drummer and return to electric instruments. We actually called it quits around September 1986, but that didn't last too long. After about a month, new songs and a gig with the Brambles at the Starry Plough (courtesy of Patty Spiglanin) got us back playing together.
Our real good luck came through our friendship with Patrick Combs, whom we met at SF State. Though still a student at State, Patrick agreed to give a try at being a manager for us, and what a job he did! Although we never totally gave up playing the college plazas, with Patrick's help we were able to get off the street and onto some "legitimate" stages.
In the summer of 1987, we recorded a second album called "Louder Than Words". In my opinion, the songwriting on this album was a big step forward from the songs on "For Sale". Unfortunately, the use of amplifiers and studio effects on the album was not very successful. The performances were good, but the production detracts from the listening experience.
Through 1987 and 1988, things started really happening, thanks to Patrick's work. We got gigs and did great shows at the Paradise Lounge, Hotel Utah, Berkeley Square, Kennel Club, Oasis, and even a couple gigs opening at the Fillmore. We did a residency at the DNA lounge every weekend for a month. And we did a Pacific Northwest tour in the fall of 1987 and a Southern California tour in the fall of 1988. Suzie Racho, then of KSJS at San Jose State, became a good friend of ours and helped us out a lot with our radio and music industry connections. It got to be very exciting, meeting other bands and rock people locally and elsewhere.
By the end of 1988, we had begun a new recording project in Los Angeles, which we had planned to release on vinyl as a 12-inch EP. With Patrick's great business sense and enthusiasm, our growing notoriety and expanding connections, and a new EP coming, we were sure we'd have a record deal in no time. Business-wise, things were looking great. But creatively, the band had peaked in the early part of the year. As I recall, by mid-'88 we had boiled down our epic 3-hour shows into a power-packed 45-minute set that would knock your socks off. Over the course of the year, though, I went through some heavy reflection on the creative process - not coming up with any real answers, but finding enough doubt to freeze my songwriting. Frankly, I wasn't sure anymore what was driving us to write songs, what I thought we were communicating, and what people were getting from our performances. My ego was there, but my heart was backing out of it, and that was a recipe for disaster. And the set list froze - my heart wasn't in the songs any more, and I had no vision of how it could change. So before we got too involved in the new recording, on the eve of what I figured would be our big breakthrough, I backed out of the band in December.
Though it was the right decision for me to leave the band, it's a shame we didn't get to record some of the songs. We had at least 2 albums worth of great songs that we never recorded. And even the albums we recorded didn't really capture the overwhelming, joyous energy that we generated in our best days. But music is ephemeral after all...
Jerry, who is now based in eastern Pennsylvania, has made some beautiful music over the years since those days. Please visit Jerry's website, where you can hear some songs from The Square Roots' "Louder Than Words" album and from Jerry's later recordings.
Square Roots Links
The Square Roots on MySpace
Patrick Combs' reflections on Square Roots days
Jerry Wagers website
back to Tim's Musical Scrapbook
back to Tim Abdellah's homepage